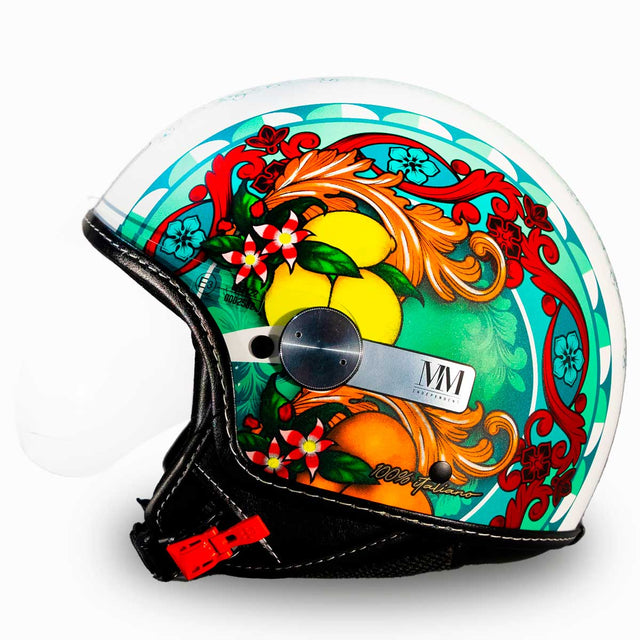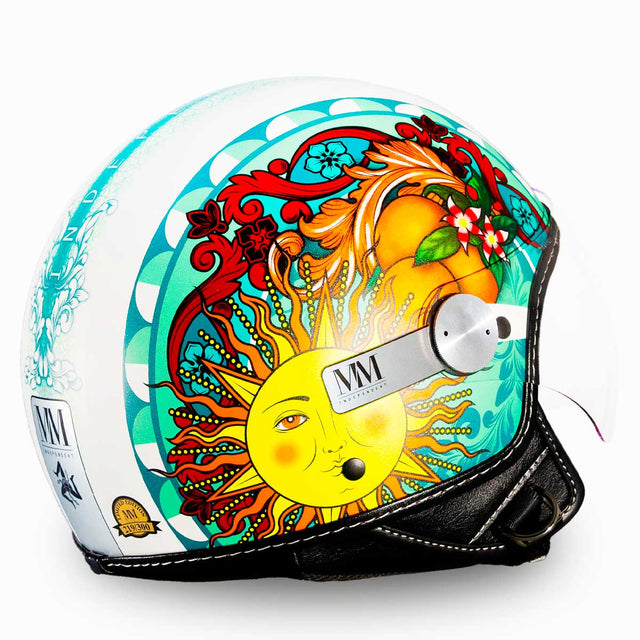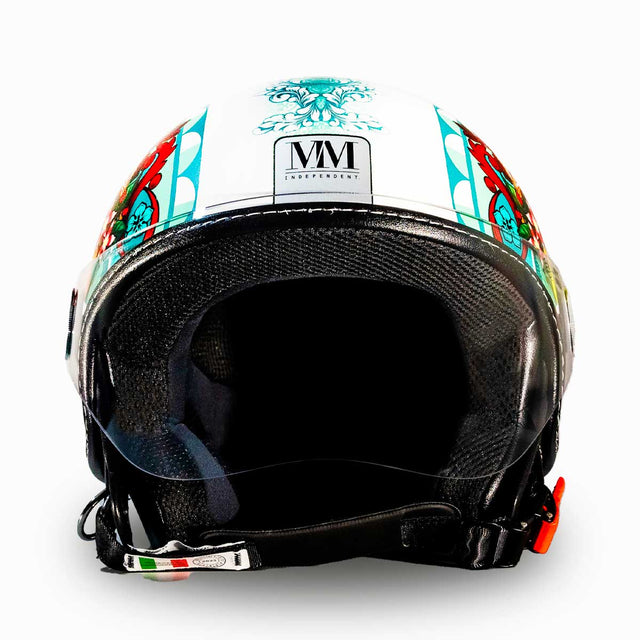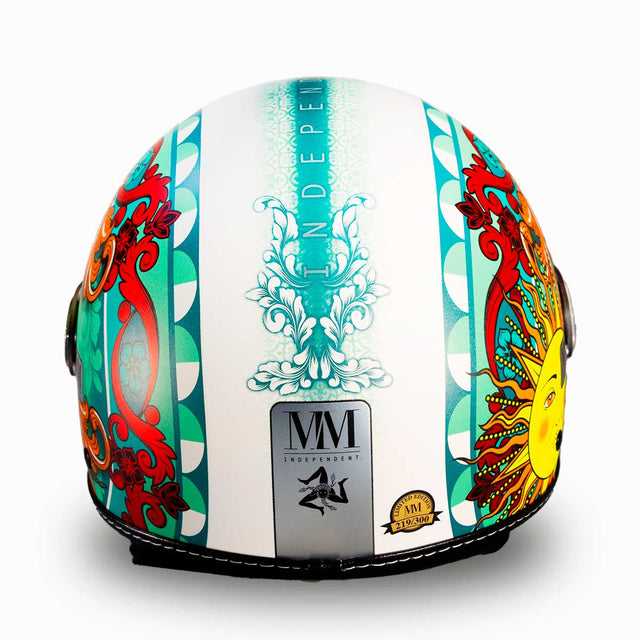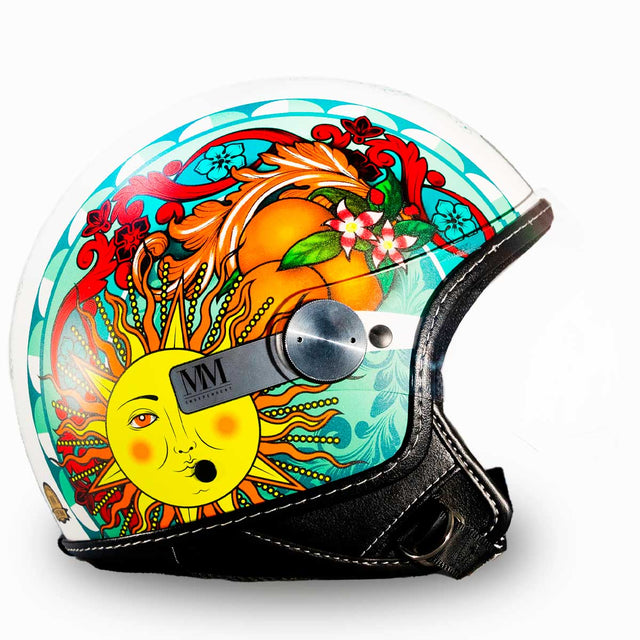 by MM Independent
Casco Sicilia Magnolia Verde LIMITED EDITION MM Independent
Casco jet MM Independent color Verde Acqua ispirato al tema siciliano:
100% Made in Italy

Omologato

 

per tutta l'Europa
Edizione Limitata solo 300 pezzi disponibili
Colorazione Rifrangente per una migliore visibilità notturna

Comodo, Resistente, Pratico, Fashion
Grafiche variopinta su fondo bianco che si ispira alle fantasie e ai motivi siciliani di grande tendenza. 
Finiture Rifrangenti visibili anche di notte grazie alla tecnologia Chrometech®.
CHROMETECH® è l'unica colorazione che ha effetto rifrangente in qualsiasi condizione di luminosità. Ad esempio, nel caso di luci artificiali come i fari delle auto, Chrometech® riflette la fonte luminosa, rendendosi molto più visibile rispetto ad un normale colore.
Questo effetto di rifrangenza consente al motociclista di essere ben visibile sulla strada anche a lunga distanza, soprattutto in ambiente notturno, donando ai caschi profondità e riconoscibilità senza paragoni.
Sulla Calotta è raffigurato un coinvolgente intreccio di temi geometrici e foglie d'acanto in diversi colori su cui spiccano i fiori di Zagara e i frutti delle piante di agrumi (arance e limoni). Inoltre, sul lato sinistro, spicca una rappresentazione ridente del Sole volutamente inserita per esaltare il tema.
Magnolia è un Casco pensato per chi ama viaggiare in moto con stile, per chi ha voglia di vivere al massimo, per chi ama i colori e adotta le tendenze.
Sono disponibili due Varianti Colore (blu lucido e verde acqua) facilmente abbinabili agli outfit estivi e allineati con le tendenze di stagione.

Prodotto in Edizione Limitata. Solo 300 pezzi disponibili. Su ciascun casco è presente il numero di serie (ES: "1/300" personalizzabile su richiesta, previa disponibilità).
Materiale Calotta: ABS
Visiera sferica: trasparente, con trattamento antigraffio e filtro solare UV
Materiale interno: tessuto ad alto assorbimento del sudore e rete micro-forata. 
Tessuti con trattamento agli ioni d'argento per un'efficace batterio-staticità.
Sottogola con fibbia micrometrica.
Chrometech
Chrometech®It is the only coloring that has a reflective effectin any condition of brightness. For example, in the case of artificial lights such as cars headlights, Chrometech® reflects the light source, making itselfmuch more visible than a normal color.
This effect ofreflective allows themotorcyclist to beclearly visible on the road even long distance, above allin a night environment, giving the helmets depth and unparalleled recognition.
CHARACTERISTICS
External material:
Calotta:
inABS with minimal design. Specific paints for an increasedResistance to atmospheric agents.
Visor: 
transparent, spherical with support in carbon. Scratch -resistant treatment With absorption of radiation up to 400 microns (UV Absorber) with sewn leather edge and with aeronautical carbon support support supports.
Internal material: high-absorbing fabric of sweat and micro-foken network. Fabrics with silver ion treatment for an effective bacterium-static.

Undercog with micrometric buckle.
MADE IN ITALY
Product 100% Made in Italy built with i Belleratorialeri by expert craftsmen. Each helmet is packaged with the utmost care and with great attention in details and in finishes.