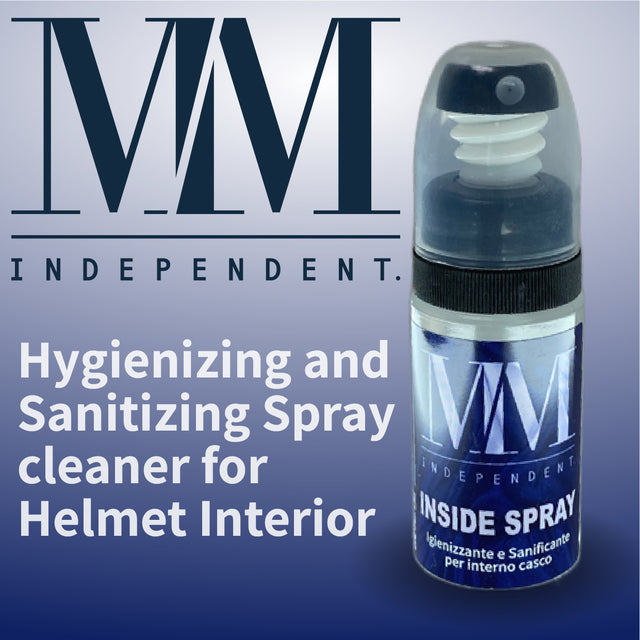 by MM Independent
Hygiene and sanitizing spray for MM Independent helmets
The Spray MM for the internal hygiene of the helmet has arrived!

Sanitity And Sanitize the interior of the helmet cleaning in depth And neutralizing the smells.
Anti-irritating formula, perfect after intense use of the helmet, leaves a delicate aroma of lemongrass.
Recommended use:
Spray the sufficient quantity to cover the entire area on the inside of the helmet. Leave to act for 30 seconds so as to sanitize the fabric. Leave to dry completely before wearing the helmet. No rinse is necessary.
Chrometech
Chrometech®It is the only coloring that has a reflective effectin any condition of brightness. For example, in the case of artificial lights such as cars headlights, Chrometech® reflects the light source, making itselfmuch more visible than a normal color.
This effect ofreflective allows themotorcyclist to beclearly visible on the road even long distance, above allin a night environment, giving the helmets depth and unparalleled recognition.
CHARACTERISTICS
External material:
Calotta:
inABS with minimal design. Specific paints for an increasedResistance to atmospheric agents.
Visor: 
transparent, spherical with support in carbon. Scratch -resistant treatment With absorption of radiation up to 400 microns (UV Absorber) with sewn leather edge and with aeronautical carbon support support supports.
Internal material: high-absorbing fabric of sweat and micro-foken network. Fabrics with silver ion treatment for an effective bacterium-static.

Undercog with micrometric buckle.
MADE IN ITALY
Product 100% Made in Italy built with i Belleratorialeri by expert craftsmen. Each helmet is packaged with the utmost care and with great attention in details and in finishes.