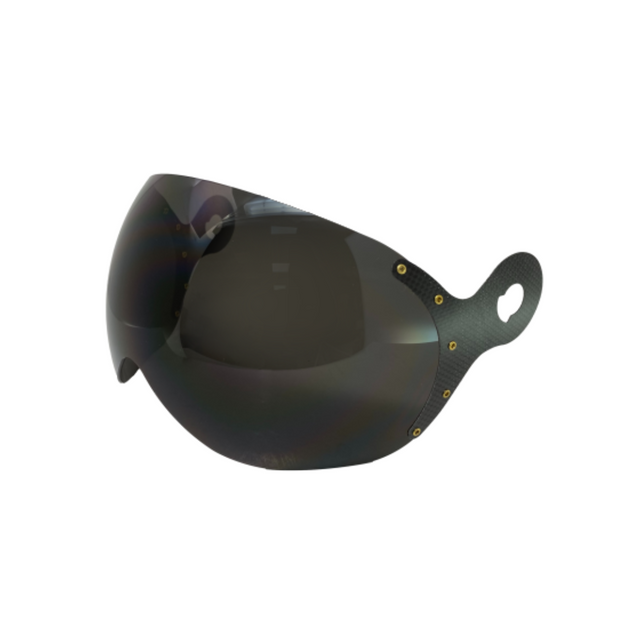 There Black visor Compatible with all MM Independent helmets.

- Easy to be mounted
- Practice both in summer and in winter
- Support in Carbon For maximum durability
- 100% Made in Italy
- Approved Throughout Europe

Make the helmet mm even morecool And protect yourself from UV rays, travel by motorbike with style and in Total safety!
Spherical visor with scratch -resistant treatment And radiation absorption up to 400 microns (UV Absorber) with supports of carbon support Air Force.
Chrometech
Chrometech®It is the only coloring that has a reflective effectin any condition of brightness. For example, in the case of artificial lights such as cars headlights, Chrometech® reflects the light source, making itselfmuch more visible than a normal color.
This effect ofreflective allows themotorcyclist to beclearly visible on the road even long distance, above allin a night environment, giving the helmets depth and unparalleled recognition.
CHARACTERISTICS
External material:
Calotta:
inABS with minimal design. Specific paints for an increasedResistance to atmospheric agents.
Visor: 
transparent, spherical with support in carbon. Scratch -resistant treatment With absorption of radiation up to 400 microns (UV Absorber) with sewn leather edge and with aeronautical carbon support support supports.
Internal material: high-absorbing fabric of sweat and micro-foken network. Fabrics with silver ion treatment for an effective bacterium-static.

Undercog with micrometric buckle.
MADE IN ITALY
Product 100% Made in Italy built with i Belleratorialeri by expert craftsmen. Each helmet is packaged with the utmost care and with great attention in details and in finishes.